There are some essential components you want in a business laptop. Firstly, a comfortable keyboard is crucial. Similarly, a high-res webcam will get you in the best light for Zoom meetings when necessary. Also, you want powerful specs to handle any processing you need from your laptop. If you work in an office, you also value portability. The device should be thin, lightweight, and easy to transport in a carrying case.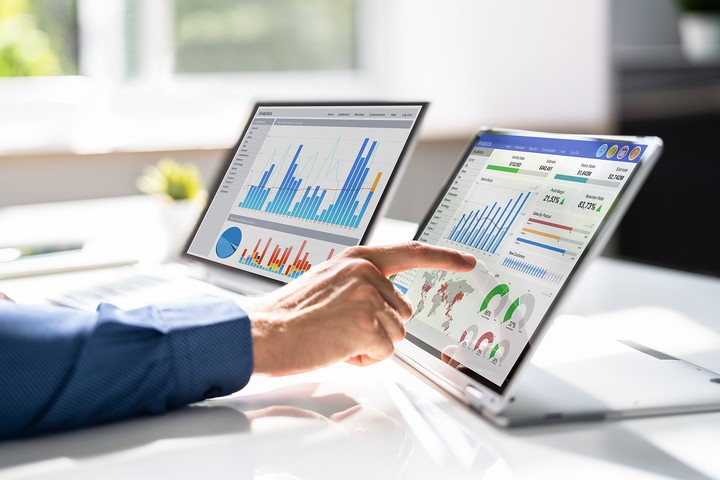 Another important selling point is its adaptability. Nowadays, many popular business laptops are convertible machines. That means it can transform into a tablet whenever necessary. It gives you the flexibility to switch between laptop and tablet modes. When you want a comfortable viewing experience, tablet mode is preferred. When you want to work productively, you can switch back to a laptop again.
2-in-1 laptops are excellent companions to increase work productivity. Here are the best 2-in-1 laptops for business:
1. ASUS ExpertBook B7 Flip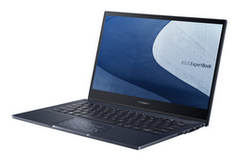 The ASUS ExpertBook B7 Flip is a compact laptop with powerful features. Its 360°-flippable design can rotate into tablet, stand, tent and laptop mode. This laptop is powered by up to a 12th Gen Intel Core i7 processor and up to 64GB DDR5 RAM, perfect for intensive tasks. It has up to 2TB of SSD storage that lets you store files securely. 
The ASUS ExpertBook B7 Flip delivers a strong performance as a laptop with excellent security and lightning-fast speeds. It also has tremendous battery lifespans, providing up to 11 hours on a single charge. In addition, you can experience optimal connectivity with Wi-Fi 6E support, nano-SIM slot, and USB Type-C ports.
2. Acer Chromebook Spin 714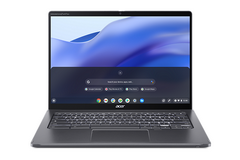 The Acer Chromebook Spin 714 may be the best 2-in-1 Chromebook on the market. It includes a 1080p webcam with a physical cover and a stylus pen. This durable laptop is also budget-friendly. The only disadvantage is that it may be heavier than some of the other picks on this list.
3. Samsung Galaxy Book 2 Pro 360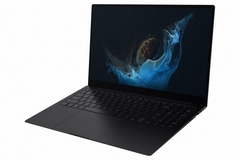 The Samsung Galaxy Book 2 Pro 360 is the best 2-in-1 laptop for business. It includes an Intel Core i7 processor, 16GB of RAM, and a 1080p 15.6-inch display. It also has a stylus to sketch, draw, and take notes. This business laptop features a bright, vibrant display, displaying impressive visuals for memorable multimedia experiences.
4. Microsoft Surface Pro 8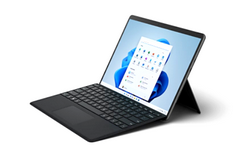 The Microsoft Surface Pro 8 is a detachable 2-in-1 Windows tablet. You have a large display, a 1080p webcam for business, two USB-C ports, and a reliable keyboard. If you are a fan of Microsoft Surface products, this is the 2-in-1 laptop to buy. The price is comparatively high, and the keyboard base is purchased separately.
5. Microsoft Surface Laptop Studio
While the Surface Pro 8 leans more toward the tablet side, the Microsoft Surface Laptop Studio is geared more toward the laptop side. It features a dynamic touchscreen, vibrant colours, excellent speakers, and good battery life. This 2-in-1 laptop has an intriguing design, even if it lacks a few performance features. Regardless, the Surface Laptop Studio is a solid pick for general business.
6. iPad Pro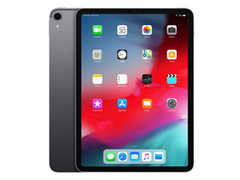 The iPad Pro is the closest you'll find to a 2-in-1 laptop for business from Apple. It's not your traditional 2-in-1 laptop and resembles more of a tablet. Nonetheless, it carries the Apple standard of excellence. The iPad Pro has a super bright XDR display, M1 processor, USB-C support, 5G capabilities. For Apple lovers, it'll keep you working within their operating system.
7. ASUS ExpertBook B9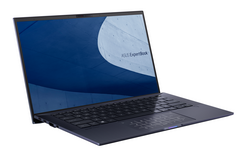 The ASUS ExpertBook B9 is a business laptop designed for professionals. It features an ultra-lightweight magnesium alloy frame in a sleek, compact design. You will enjoy portability with power. It is supported by up to an 12th Gen Intel Core i7 processor and up to 4TB SSD capacity. With these solid specs, you can tackle intensive workloads easily.
The ASUS ExpertBook B9 comes with lots of work-friendly office features. It includes a compact 14-inch display that fits in a 13-inch chassis, providing a comfortable visual experience. The laptop is also featherlight, weighing only 880g. You can enjoy fast data access with Thunderbolt 4 slots, while HDMI ports ensure easy connectivity to other devices. The laptop battery lasts up to 16 hours, allowing you to work unplugged throughout the day.
8. Dell Latitude 9420 2-In-1 Laptop
The Dell Latitude 9420 2-in-1 is a highly-rated business laptop. This slim and durable device has a QHD+ 16:10 display. It also supports fast performance with long battery life. Additionally, this laptop offers innovative security features, including a fingerprint sensor and an IR camera for facial recognition. A disadvantage is that the 720p webcam doesn't deliver exceptional image quality. Nonetheless, it remains a great laptop for entrepreneurs and small businesses.
9. Lenovo ThinkPad X1 Titanium Yoga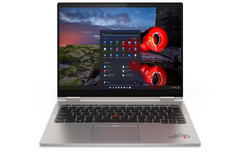 The Lenovo ThinkPad X1 Titanium Yoga laptop has a high-quality screen and enough processing power to get any business task done. It is one of the thinnest 2-in-1 laptops by Lenovo. The uniquely redesigned keyboard is a favourite among some users, although others may find the layout unusual initially.
10. HP Spectre x360 14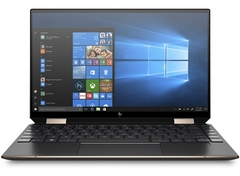 The HP Spectre x360 14 has a striking design. It features a gorgeous OLED display that produces beautiful visuals. In addition, this laptop has a long battery life that can last throughout the workday. This HP machine has everything you need to do business productively. It includes a fast processor operating on an Intel Core i7-1255U. Plus, you will enjoy the comfortable keyboard, intuitive touchpad, and lightweight design.